Montessori Children's House of Hayward is an excellent school. They fully understand the needs of a child and properly address these needs. I also noticed that the children tend to be more academically advanced than other kids from other schools at the same grade level. Students are not confined to a strict curriculum. They are given opportunities to explore other subjects when their regular school work is done. All in all I highly recommend this school to anyone. -Ben V.

"I couldn't have asked for a better elementary school for my children than MCHOH. My sons were so excited to go to school every day, and I loved that they encouraged further exploration of their interests. I knew it was working when my second grader took a tiny notebook out to the backyard to be an "explorer" and record his observations, all on his own. The teachers are incredibly skilled and adept at assessing each child's strengths and weaknesses and adapting learning plans to suit them. It's important to me that I trust the adults I leave my children with for the day, and I completely trust them to have my child's welfare as their first priority."
-Colleen Arnold, Ph.D., MFT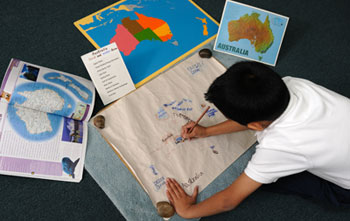 Elementary Program
Montessori Children's House Elementary Program is a joyful learning community of students ages six through nine (1st through 3rd grades). As in the primary, the elementary environment is thoughtfully prepared to nurture the physical, emotional, social, moral and intellectual growth of the children at this unique stage of their development. Montessori elementary provides a natural continuation of the work of the primary class, and the fundamental Montessori principles of independence, social responsibility, self-discipline, and love of learning continue to apply.
2021-2022 Kindergarten and Elementary Tuition
Kindergarten/Elementary (1st-3rd) is a 10-month program which begins in September and ends in June.
All charges are for one month.
Enrollment fee (non-refundable): $200
Kindergarten Academic Program
$715/month
1st-3rd Grade Academic Program
$685/month
Upon enrollment we ask that you pay the enrollment fee and a last month's deposit of $715 for Kindergarten and $685 for Elementary. Additionally, for Kindergarten there is a $100 yearly materials fee, and for 1st-3rd a $160 yearly fee for books and materials.

If you are interested in enrolling, please call (510) 782-4427, Administrator's Office, for an appointment.
1st Year (6-7 years old)
Open Court reading groups
Spelling
Expressive Writing
D'Nealian handwriting
Poetry memorization
Four-digit Addition
Fractions, Money & Time
Math Facts
Zoology, Botany, Geography & History
2nd Year (7-8 years old)
In addition to continuing with the above subjects, students begin:
Grammar
Four-digit Subtraction
Beginning Geometry
Zoology, Botany, Geography & History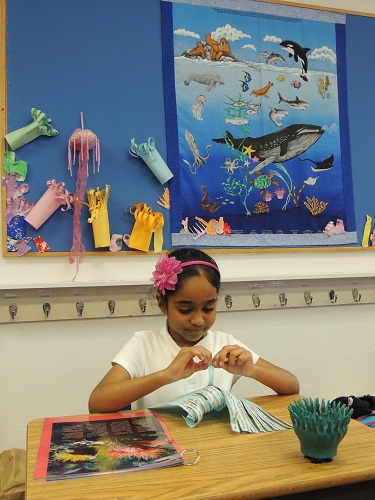 3rd Year (8-9 years old)
Students complete their third year by adding to the above subjects:
Report & essay writing
Cursive handwriting
Four-digit Multiplication & simple Division
Stanford Achievement Test
Bringing science & history together with the making
of the Timeline of Life
Spanning First Through Third Grade:
Montessori Children's House provides a small and academically excellent early elementary program with a warm and supportive atmosphere for the three most important years of your child's elementary life.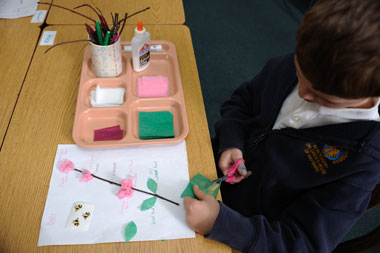 The Montessori Touch:
Beautifully handcrafted Montessori learning materials
Montessori Elementary trained teachers
Mixed age groups, based on levels of development
Mastery of skills before promotion
Small classrooms with personal attention
A full curriculum of geography, zoology, botany and history
Monthly class field trips
Memorable holiday and cultural celebrations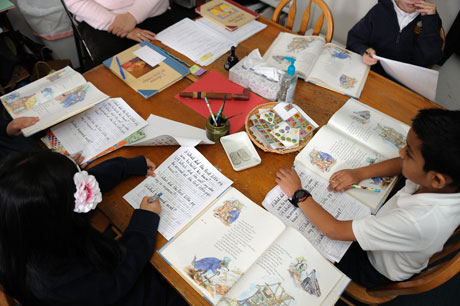 A Touch of the Traditional...
State credentialed teachers
School uniforms
Semester report cards
Individual desks in a quiet and respectful classroom
Weekly Physical Education and Children's Chorus